Disability Ramps and Access
The Disability Discrimination ActIt has been estimated that over 11 million people in the UK are covered by the provisions of the Act with a combined spending power of £50 billion per year. By complying with the Disability Discrimination Act you can meet your legal requirements and make your business accessible to this market.

The Disability Discrimination Act (DDA) requires that service providers have to make 'reasonable adjustments' to their premises ensuring there are no physical barriers stopping or making it unreasonably difficult for disabled people to gain access or to use the services.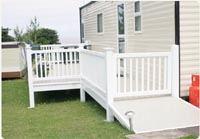 Need to fit a ramp for access?
Own a holiday home or a park?
Rent Mobile Homes?
This Act applies to employers, service providers and those selling or letting land and property. It also applies to anyone providing a service to the public, whether you are a public or private operation no matter whether your services are paid for or free.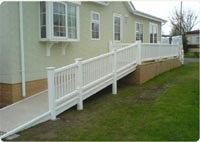 With Southern Decks you can now offer access ramps in accordance with the disability laws and integrate them into your existing property, easily and quickly; they look fantastic when matching with our decking solutions. We also provide steps, gates and other solutions.
Call Us
Fencing
Private & Commercial Fencing for Homes, Estates, Gardens, Driveways, Farms and Hotels.
Add to the beauty of your property with any of our decorative styles of plastic fence. They're hardwearing and versatile and durable enough to meet any need, without requiring painting or staining. Ever!
No matter what the size of your property we have a fencing solution for you. Perfect for farms, hotels, estates and clubs... and a whole range of private properties.

Enhance the beauty of your home with our hard-wearing fencing....
A Sound Investment.
A fence is a major investment and its important that you consider the credibility, stability and integrity of the manufacturer. Our Fence warranty is not only more inclusive, it is also backed by 25 years of experience.
Enhance the appearance of your surroundings, with our range of Fences and Barriers. Easy to maintain and keep clean always...
Peace of Mind
Our Triple Crown Fence contains a specially engineered vinyl compound which cleans easily, repels stains, and withstands the sun's rays with more ultraviolet inhibitors than most vinyl siding companies use. This means the appearance of your fencing will be less weathered after years of use than traditional wood. Non-toxic chemicals are used , so it is safe for both people and pets. Made from pure virgin vinyl compound, the fence is also 100% recyclable
Ideal for Estates, Parkland and Agricultural Uses
Our extensive range of both square and round post and plank rails, sturdy post and rail gates, and Hub Rails mean that we have the solution for any large scale Fence requirements, for parkland or estatses, whetever your need we can provide you with an excellent service....
Call Us
Furniture and Accessories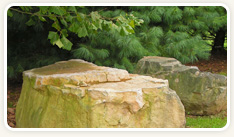 Enjoy your decking or veranda solution even more with our range of optional extras and accessories.


Our Furniture is masterfully constructed from durable,100% vinyl and recycled materials, this unique system requires no staining, painting or sealing. Yet its extraordinary appearance endures for years, through harsh elements and heavy use.


Picnic Bench & Junior Picnic Bench

This wonderfully sturdy, robust and rigid picnic bench caters for the whole family. Long-lasting, available in two sizes;
.

Tables & Matching Benches
Designed with practicality in mind, can be used as a set
or individually for different social occasions and enhance your garden space.

Chairs & Park Benches
classically designed and will look fantastic in any garden. Single chairs also available. Ideal for the home garden as well as parks and public places.
Planters
The Garden Planter is a versatile and attractive outdoor setting without the hassle of annual maintenance.
Call Us
Contact Us
Serviiced Offices ONLY: New Barn Farm, Funtington, Chichester, West Sussex, PO18 9DA
Telephone: 023 9311 6938
info@southerndecks.co
.uk
Clients Services